Why Buy A Diamond From Vanessa Nicole Jewels?
 
* Each diamond is analyzed in-house to determine whether it meets our strict standards of cut and brilliance
* Your diamond is guaranteed to match the certificate

* You will receive unparalleled service and education

* Highly competitive prices
 

FIRST, CHOOSE YOUR DIAMOND SHAPE
Below is an explanation of the 4 C's – Color, Clarity, Cut, Carat
(The jewelry industry uses this to determine a diamond's value)
---
COLOR

Because a colorless diamond, like a clear window, allows more light to pass through it than a colored diamond, colorless diamonds emit more sparkle and fire. The formation process of a diamond ensures that only a few, rare diamonds are truly colorless. Thus the whiter a diamond's color, the greater its value. Diamonds graded G through I show virtually no color that is visible to the untrained eye. Unless requested otherwise, Vanessa Nicole Jewels only offers diamonds with D – J color.  
---
CLARITY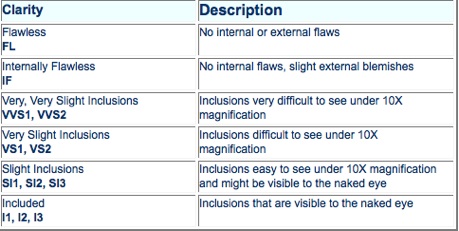 ---
CUT
Diamonds that are cut either too deep or shallow can lose light through the sides/bottom, will be less brilliant and, ultimately, of less value.  Well-cut diamonds reflect light like a mirror from one facet to another and reflect this light through the top of the stone – This results in a brilliant and fiery radiance! Frequently, some diamond cutters will compromise on the cut of the diamond in an attempt to optimize a diamond's carat weight. This result is a larger diamond with a more dull appearance.  I guarantee that we only offer the most brilliant looking diamonds. But if you're concerned with having a larger diamond and only have a limited budget, there are ways to design your ring to visually provide a larger appearance on her finger. Just ask us – we'll show you how!  
---
CARAT
The price of a diamond does not double for each doubling of the carat.  In other words, a 2 carat diamond does not cost twice as much a 1 carat diamond. The cost of a diamond increases exponentially with an increase in weight. This is because larger diamonds are rarer than smaller diamonds and the rarity increases the value of a larger diamond.
Courtesy of the Gemological Institute of America and diamondeducation.net
---
Examples of Past Diamond Selections for Clients
Jennifer's 2ct CUSHION Cut Diamond Selection
Tim's 1ct CUSHION Cut Diamond Selection
Anna's 1.0ct – 1.50ct CUSHION Cut Diamond Selection
Meggan's .70ct CUSHION Cut Diamond
Kelli's 1.41ct J-VS2 CUSHION Cut Diamond
1.41ct J-VS2
Jon's 1.0ct – 1.35ct ROUND Cut Diamond Selection
Steve's 3.0ct – 3.6ct ROUND Cut Diamond Selection
---
---
Find the best custom Engagement Rings in San Diego at Vanessa Nicole Jewels!